This is really awesome, today Nutanix has released the enterprise computing certification Nutanix Platform Expert (NPX).  Since the certification is released by Nutanix it will off course require that each candidate completely master the Nutanix web-scale hyper converged infrastructure (HCI) concept and products. What will make NPX absolutely outstanding, and is a huge differentiator compared to other high level certificates, is that it covers both a specific area/concept/product (Nutanix) and several other areas as well including but not limited to e.g:
Analyze business needs
Application implementation/layout on HCI
Incorporate new operational models into Nutanix solutions
HCI Infrastructure design/implementation/operation
Multi Hypervisor expert skills (2 of the below 3):

KVM
Microsoft Hyper-V
VMware ESXi

Transition of existing 3 tier architecture to HCI
There are no requirements for participating in the NPX program apart from being a Nutanix Platform Professional. However, the following figure gives you an idea of the recommended skills before joining the program. Let's assume you want to create a design using vSphere and also be tested on Microsoft Hyper-V you should at least have the skills compared to VCDX (DCV, DT or Cloud) and e.g. MCSE Private Cloud.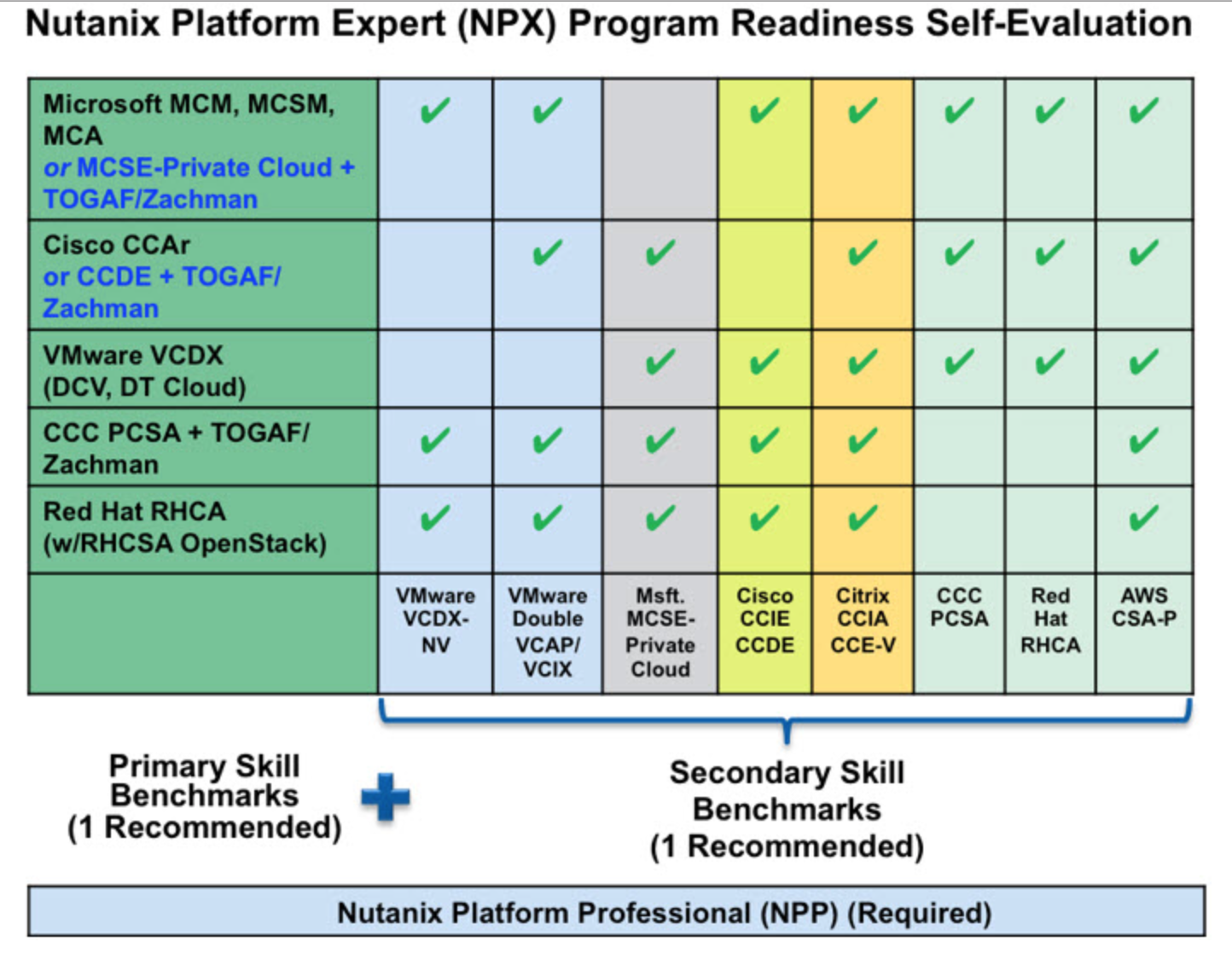 The entire NPX process consists of several steps including:
Written exams
A web-scale based design
Hands-on labs
Design exercise
Live peer review
Nutanix will sponsor two NPX Design Review sessions in in 2015. Both sessions will be held at Nutanix Corporate Headquarters located at 1740 Technology Drive, Suite 150, San Jose, CA 95110
September 14-18
December 7-11
To participate in the program, register your interest via the Nutanix nu.school NPX Program Homepage, NPX Program Forum or contact the NPX program manager Mark Brunstad at npx@Nutanix.com.
Just one more important thing. This certification is free of charge,