Happy to announce that Nutanix has released support for the OpenStack Pike version which was released second half of 2017 and will be maintained to at least 2019-03-03 according to Openstack.Org.
There are two new main features included in the support for the Pike release apart from the obvious Pike driver support:
Support to select AHV managed and unmanaged networks. Now you can assign IPv4 and IPv6 address through unmanaged network in AHV.
VM state synchronization between Nutanix and OpenStack.
Driver Decoupling. Nutanix has taken first step to decouple the drivers from this release onwards, i.e. now Image backend can be any backend, VM boot will download image on the fly when vm boot request is triggered.
Enhanced logging with mapped exception interfaces and debugging is easier and more intuitive than previous release.
The same drivers are included in the Nutanix support for Pike as with the other OpenStack releases meaning:
Nova Compute
Neutron Network
Glance Image
Cinder Volume
The below figure describes the Nutanix and OpenStack architecture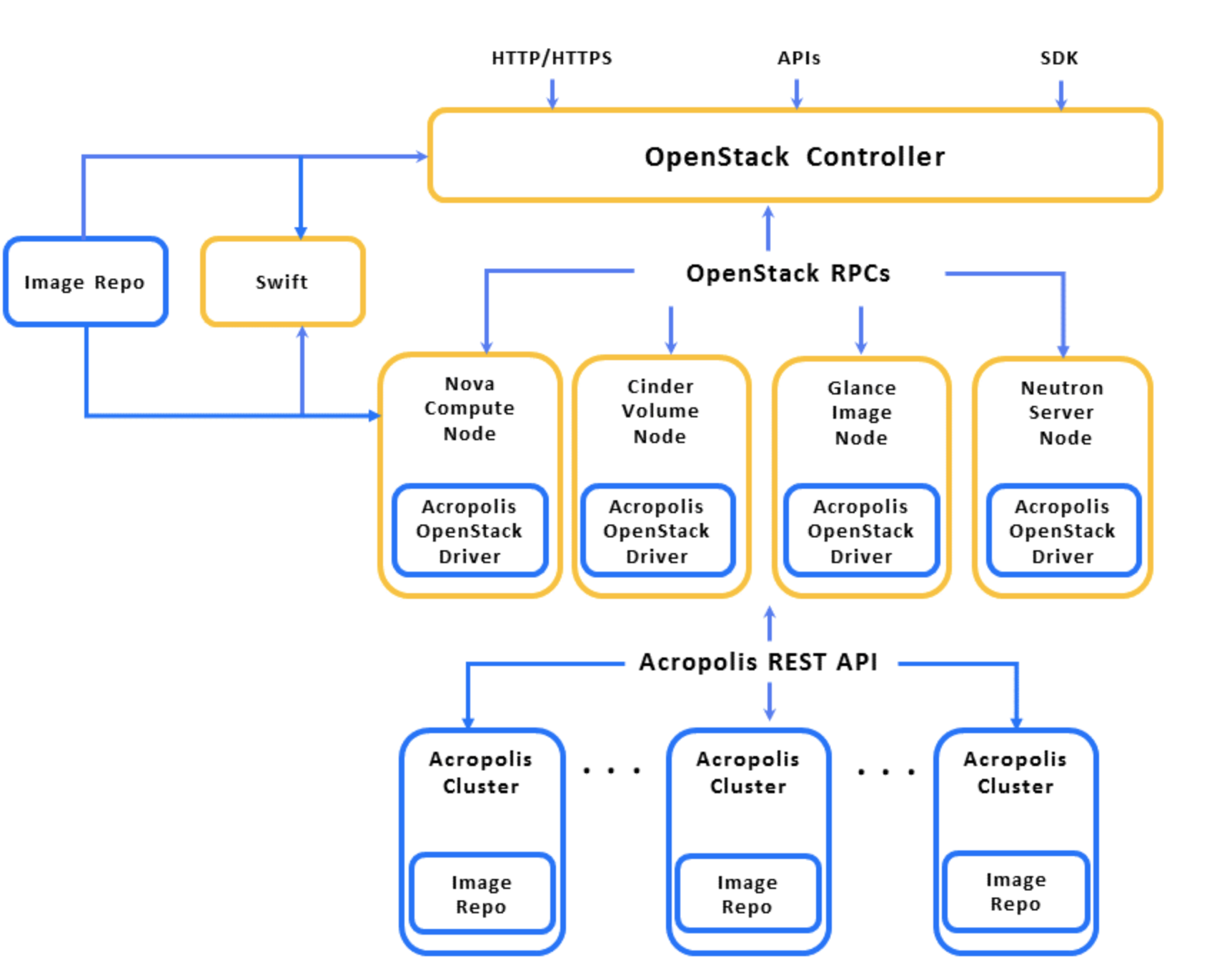 Figure borrowed from the official Nutanix website
There are still two Nutanix deployment models available:
Driver Mode – All environment
OVM (Openstack Virtual Machine) – Only for proof of concept (POC)
Read about Management of Nutanix Clusters with OpenStack the and download the software here.
A few words from Nutanix OpenStack guru Ashish Bhat, Senior Member of Technical Staff | OpenStack Lead
OpenStack provides a leveling ground to different infrastructure providers, A very noble concept, since the SaaS Applications and orchestration engines need not change a single line of code when the underlying PaaS layer changes, making the life of DevOps and Developers easy. Sometime back at Nutanix, we democratized hypervisor choice to the customer to AHV, ESXi, Hyper-V, XEN. On similar lines we see our OpenStack Integration as first step to embrace Open APIs, let the customer choose the infrastructure of their choice, we will make it easier for them to consume our platform, integrate with their existing ControlPlane and provide goodness of Nutanix Hyperconverged Platform.
We have come a long way, refined our drivers and made them more resilient, with the OpenStack Pike release. This is possible since we constantly receive and evaluate the feedback we get from our partners, our customers and via OpenStack conferences. We look forward to continue the momentum and add more features and functionalities next set of releases.