A few weeks back the yearly top vBlog voting hosted by Eric Siebert at vSphere-land and sponsored by Infinio started and this Tuesday, (March 31) the results were announced during a live session which you can watch here in case you missed it.   Simon Seagrave, John Troyer  and Scott Davis participated in the live session were the top 25 spots were announced.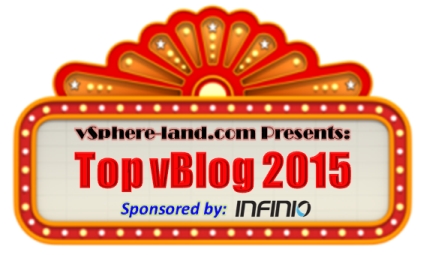 Last year, read my blog post here, my blog was voted #18 and this year it was voted as #17.
It's a real honor that you my readers finds my blog valuable and include it in your voting. This for sure will keep up my motivation and continue blogging.
There were over 411 blog included in the voting and over 2 200 votes and bloggers who make the top 25 also gets a really cool coin. Bloggers who make the top 10 will get a gold coin, 11-25 a silver coin and 26-50 a copper coin.
The complete top vBlog voting results can be found vSphere-land.
ONCE AGAIN, THANK YOU FOR YOUR VOTES