As usual, Eric Siebert, has made an awesome job putting together the annual top vBlog voting for the best virtualization blogs and i just wanted to let you know that the 2015 voting is now open unless you haven't seen that already.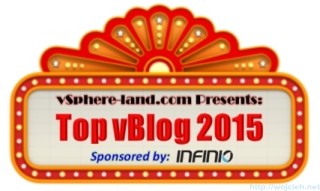 There are more than 400 blog to select from so you got plenty of alternatives. There are actually voting guidelines available where you are asked to consider the following when you vote:
Frequency (how often they post)
Quality (how well the posts are)
Length (how long the posts are)
Longevity (how long they have been blogging for)
However, i just think you should pick the blogs based on the once that helps you in your daily job and provides good news. Doesn't have to make it harder than that:)
Just click the below vote button, select your top 10 blogs, rank the in your order of preference and move on from there. It will just take 2-5 minutes of your time.
The result is calculated based on the one you rank as number #1 will get 10 points and the one you rank as #10 will get 1 point.
The result will be presented March 19.