Last week, Unitrends released a new product — Unitrends Free. The product, which is unlimited in terms of VMs and sockets, gives you the opportunity to protect 1TB of VM data for free, forever. When downloading your Unitrends Free copy, which you can do via this link, you also get a chance to participate in the "Recover Your Weekend" Sweepstakes where you get a chance to win the following.
Grand Prize — $1500 VISA Giftcard
Many will win a Unitrends travel kit
There are a lot of nice feature included in the free version:
vSphere and Hyper-V Backup for Unlimited Virtual Machines (VMs) and Sockets. Unlike other tools that restrict usage by number of VMs or sockets, Unitrends Free provides hypervisor-level protection for up to 1 terabyte (TB) of data.
Instant VM Recovery – Makes it possible to quickly run a VM directly from a backup to reduce downtime. Instant recovery also allows users to spin up copies of their VMs for recovery verification, testing and development.
Automated Daily Scheduling – A "set it and forget it" feature for scheduling daily recovery points to keep a user's system protected at all times.
Fast, Incremental Forever Backups – Changed block tracking (CBT) and incremental forever backups to ensure that fast completion times same time as using as little storage as possible.
Cloud Integration – Take advantage of low cost long-term storage via integration with third-party clouds such as:

Google Cloud Storage
Google Nearline
Amazon Simple Storage Service (S3).

Unitrends Community Integration – Directly integrated into the Unitrends Free user interface, IT professionals can search the forum and collaborate to help one another, while also earning attractive rewards.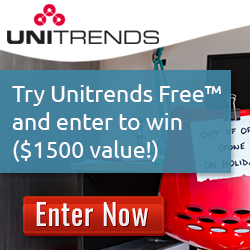 Go get a copy of Unitrends Free
here
and start protecting your VMs.
You can learn more here: www.UnitrendsFree.com