As you all know VMware vCloud Director is a cloud provisioning and management tool for Service Providers. A while ago a new version was released and the new version is lucky number 10. Two of the most obvious improvements would be the HTML 5 UI (this applies to providers as well) and the support for NSX-T version 2.5 which brings the following 6 capabilities to the table:
Creation of Edge Gateways
Configuration of Edge Firewall rules
NAT configuration
IP Allocation and Management
DNS Forwarder/Configuration
OrgVDC Network Creation/Configuration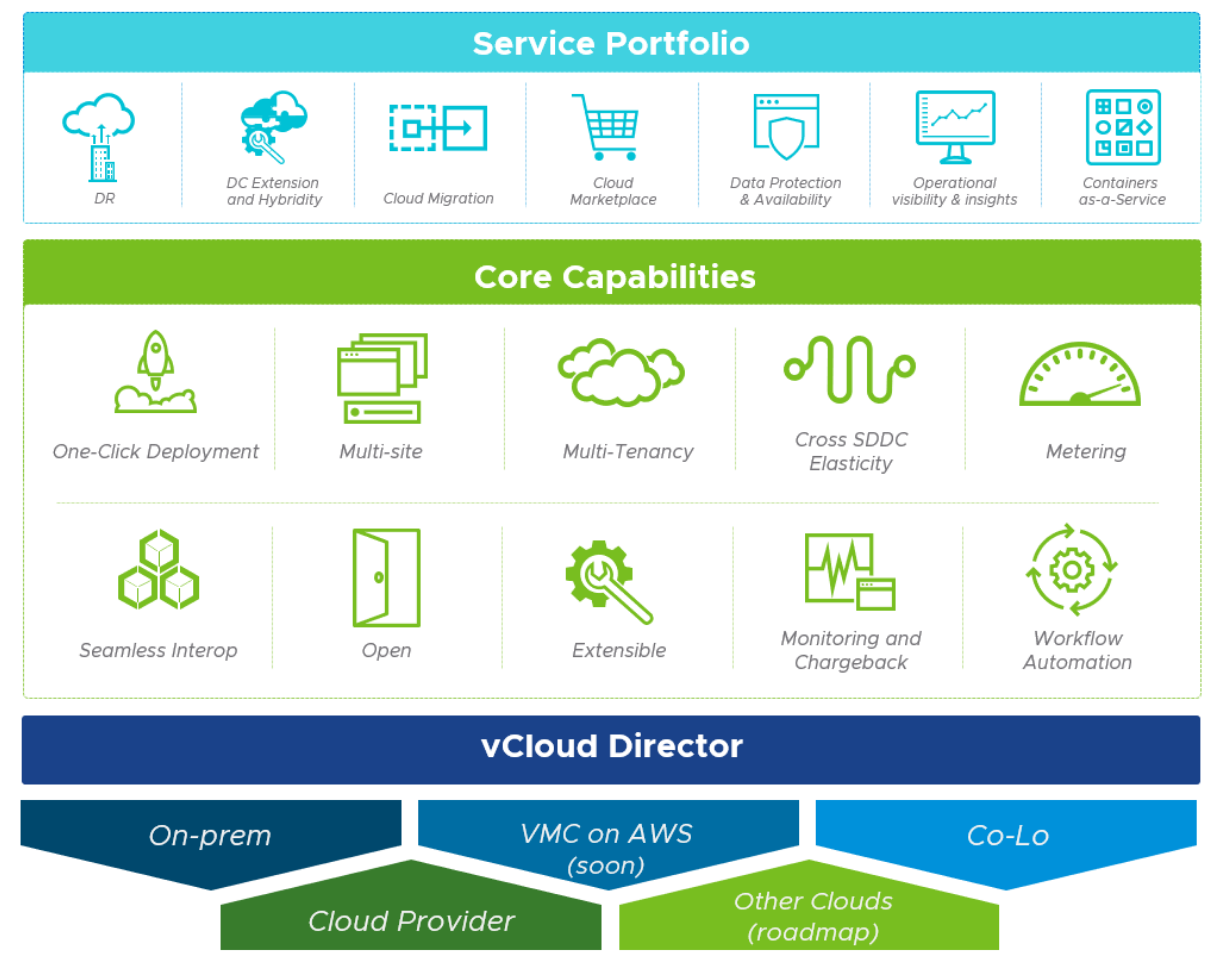 Picture borrowed from VMware Official Web Site
HTML5 UI
Flex UI is disabled by default with vCloud Director 10 but since it is just disabled you can enable it if needed. It says deprecated and disabled in the release notes. You might need the good old Flex UI when you need to carry out tasks that are not yet included in the HTML 5 UI but it should provide a completed Provide UI but still things missing in the Tenant UI.
Enable the Flex UI using the following command "cell-management-tool manage-config -n flex.ui.enabled -v true"
Missing HTML 5 UI Functionalities Compared to Flex UI
The following functionality still requires the Flex UI:
Unable to change the catalog owner (Tenant portal)
Unable to edit the OVF properties of a vApp and VM (Tenant portal)
No option to power on a vApp after vApp deployment (Tenant portal)
Unable to import a VM or vApp from vSphere (Tenant portal)
Unable to change the user notification settings (Tenant portal)
Unable to change the vApp lease expiry alert notification settings (Tenant portal)
Unable to import a vApp template from vSphere (Tenant portal)
Unable connect to a vApp network when creating a VM within a vApp (Tenant portal)
vApp templates are not differentiated from unexpired templates (Tenant portal)
Unable to set per-disk IOPS through the HTML5 UI (Provider portal)
Unable to set custom vApp lease times (Tenant portal)
Unable to copy a role (Provider portal)
External IP is not showing on the vApp details page (Tenant portal)
Supported Operating Systems
The below list includes the supported operating system where you can install the vCloud Director application:
CentOS 6
CentOS 7
RedHat Enterprise Linux 6
RedHat Enterprise Linux 7
Container Service Extension (CSE)
vCloud Director 10 with CSE 2.0 includes support for both VMware Enterprise PKS backed Kubernetes clusters and native Kubernetes clusters deployed in the vApp construct.
Central Point Of Management (CPoM)
CPoM is a way to dedicate a complete vCenter Server to an Organisation. The provider UI now includes management of these vCenter Servers so no need to use API unless that is your preferred operational model.
Deprecated Stuff
As I wrote in the vCloud Director 9.7 blog post it was the last version to support MS SQL as the vCloud Director database and this has now become a reality. Only PostgreSQL is supported as database now. On top of that Oracle Linux is no longer a supported operating system to run the vCloud Director application/software.
In addition to the above the Flex UI is disabled and not supported, the vCloud API 20 is no longer supported and vCloud API 27.0 and 29 are both deprecated.
Useful Links
What's New in vCloud Director 10
vCloud Director 10 Release Notes