A while ago Vembu Technologies, also known as just Vembu, released version 4.1 of their BDR solution which is a suite of products that provides Backup & Restore plus Disaster Recovery.
There are some pretty nice new features in version 4.1, e.g:
Integrity Check Management – Option to schedule, previously every 24h, when all or any of the three checks (Boot test, Mount test) will be performed for a virtual and or physical backup.
Hyper-V Incremental Backup using Resilient Change Tracking (RCT) – More efficient backups
VMware Backup Proxy – Good for scalability
Oracle application consistent backups.
Support for backing up VM data which resides on Microsoft Scale-out File Server (SOFS)
System Files Exclusion – For NTFS file systems you can exclude unnecessary files such as e.g. pagefile.sys & hiberfil.sys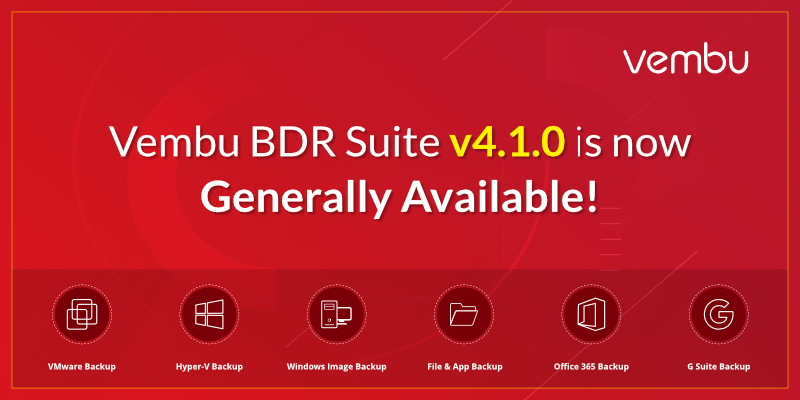 The free edition, released with version 3.7, still applies meaning you can backup VMs and physical servers with limited functionality after the trail period has ended.
Vembu Backup Server Requirements
64-bit support only
CPU / vCPU
Memory

16 GB memory recommended
8 GB memory minimum

Network
Storage

Operating system: Follow vendor recommendations
Meta data Storage: 10% of the planned total backup data size.

Operating System

Microsoft Windows

Windows Server 2019 (specific versions)
Windows Server 2016 (specific versions)
Windows Server 2012 R2 (specific versions)
Windows Server 2012 (specific versions)
Windows 10 (specific versions)

Ubuntu
Useful Links