The third and closing day, 2016-10-20, of VMworld is a bit different compared to the first two days since it does not contain a keynote session meaning the breakout sessions starts at 09:00 AM.
The other VMworld 2016 Europe daily summaries can be found here:
Solutions exchange
I visited the VMware booth for about 1.5-2h and discussed various topics around vSphere 6.5 and vRealize Automation. Spend some time at the Nutanix booth talking to colleagues and visitors. I also visited quite a few other booths as well talking mainly to security and cloud related companies.
Breakout sessions
I only attended one breakout session today and it was a summary of the news in vSphere 6.5 which i have already touched upon in my two previous daily summaries.
INF8375 + Additional Information
I will not cover VM Encryption and Encrypted vMotion. See VMworld 2016 Barcelona – Day 2 Summary for this information.
vCenter Server appliance
A lot of news in this area and the one i like the most is the High Availability option. Over the years it has been a constant struggle to make the vCenter Server highly available. The setup will consists of the following components: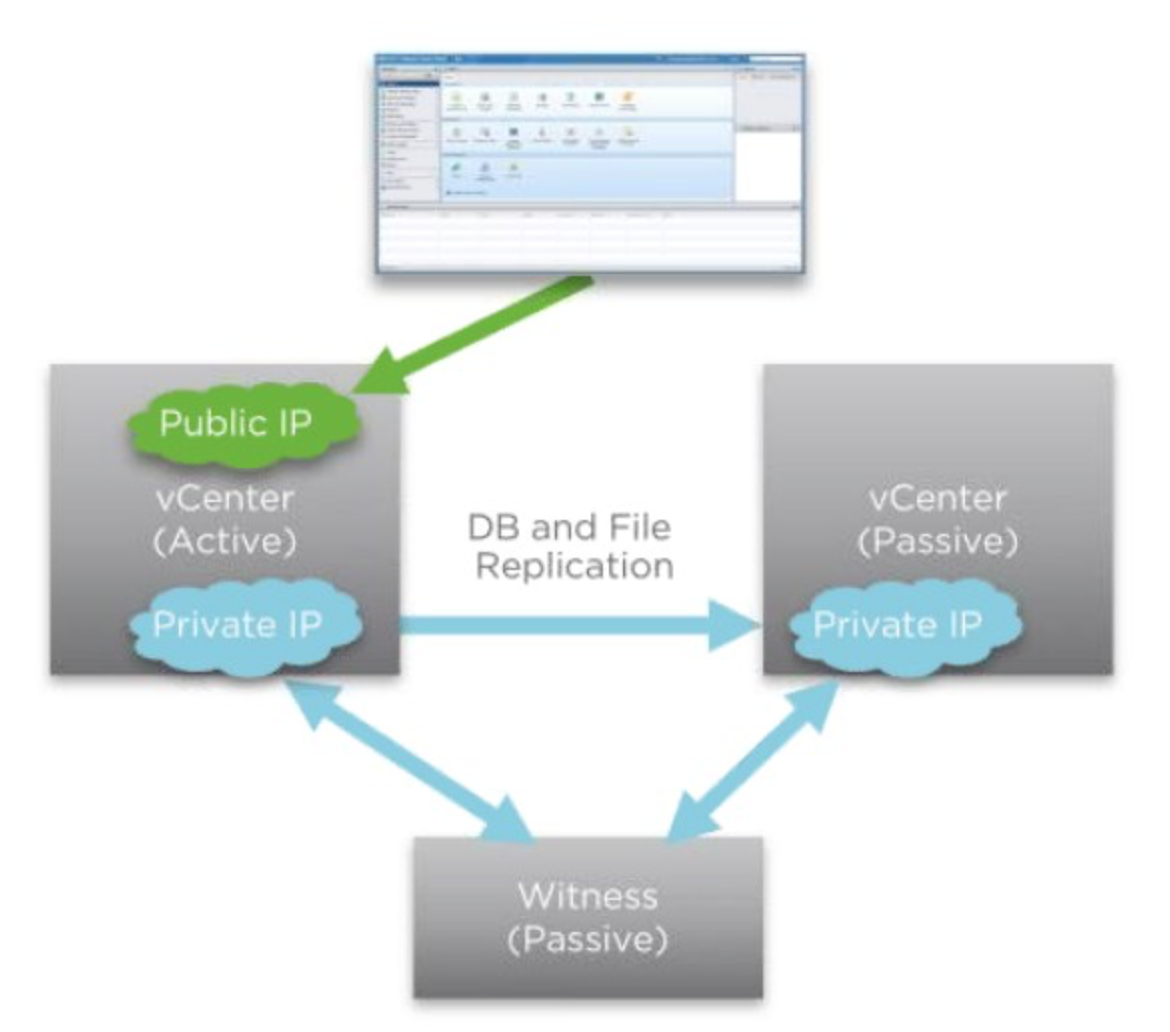 As you can see in the figure above the replication includes both DB and files. The DB is still PostgreSQL meaning it's built-in sync replication feature is leveraged. There is some configuration that is stored in files and they will also be replicated, in near real time fashion, whenever changed.
There are two options during the deployment:
Basic – You need to provide things like IP information and if DRS is enabled in the target vSphere environment the VM Anti-Affinity rules can be automatically created so the VMs are not running on the same ESXi host. An additional vNIC (eth1) is added to the VCSA during the deployment process.
Advanced – Self made clone of the initial VM but here you will get a chance to place the different components in different vCenter Servers and datacenters.
No L2 connectivity is needed, distance will be bound to the latency requirements which has not yet been published to my knowledge.
Backup and restore capabilities will be included and you'll be able to create a new VCSA based on a backup meaning a much lower RTO when/if something goes south.
It will be an easy way to migrate from Windows based vCenter Server to VCSA. The Virtual Appliance Management Interface (VAMI) has been improved from a functionality and look & feel perspective. You can do resource monitoring via VAMI which might be handy especially now when vSphere Update Manager (VUM) is included in the VCSA. Yes – that's correct so no more need for external DBs and a Windows based VM just to run VUM. During a Windows vCenter Server server migration to a VCSA the VUM configuration will be included.
The actual deployment process has been updated and you basically got 4 options when you start the deployment guide which now can be started on a Mac, Linux and PC since it no longer require Client Integration Plugin.
Install
Upgrade
Migrate
Restore
HTML5 client
A lot has been said about the vSphere Web Client over the years and i have not been a huge fan but tried to use it as much as possible. Since a while back a new modern HTML5 based client has been available as a VMware Fling and with vSphere 6.5 it will be GA/included.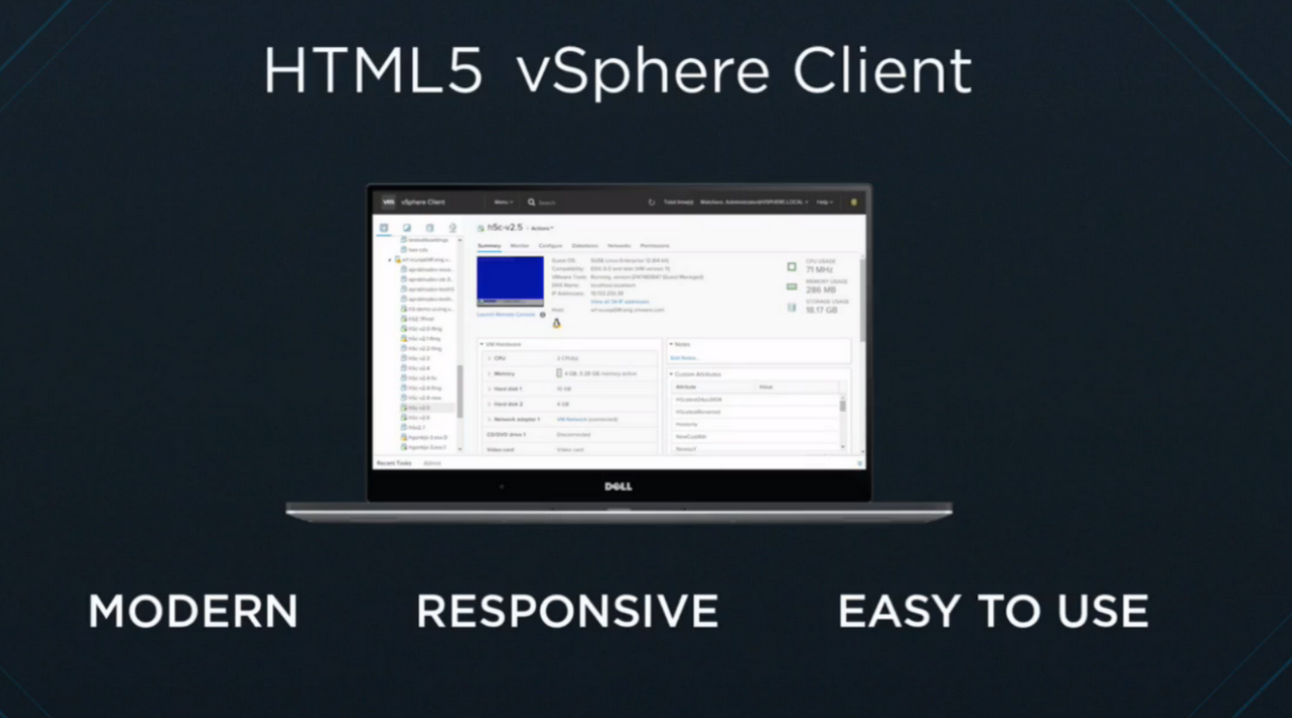 The action menu will be 3 times faster and it also has built-in auto refresh so you no longer have to click the refresh button every now and then. There is a certification process for each plugin and there was a few vendors listed on the screen. However, not all capabilities will be included so i guess we now have to work with vSphere Web Client and vSphere HTML5 client instead of vSphere C# Client and vSphere Web Client:)
REST API
The REST API explorer will be available via vCenter Server and from my understanding you don't need to take any action to make it available. Just direct your browser to https://vCenter-Server_FQDN/apiexplorer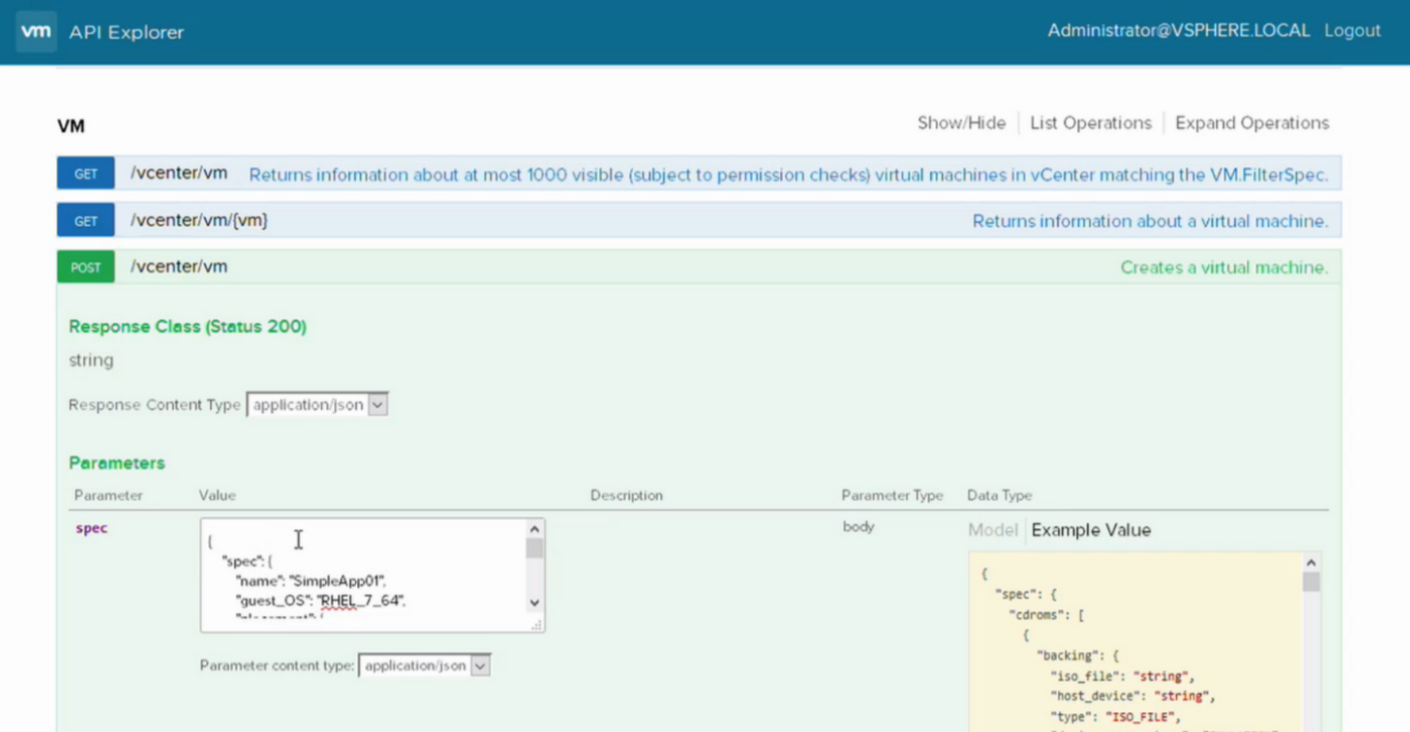 Host Profiles & Auto Deploy
Host Profiles and Auto deploy will have some nice enhancements. Host profiles will have a 3 x performance improvements and updated in the following areas:
Manageability

Copy Settings between Host Profiles
Filters
Host customizations for offline customisation for offline customisation.
Bookmarks

Operations

Compliance view enhancements
New ready to complete/pre-check
Remediation and Parallel Remediation
Auto Deploy now comes with a UI meaning no loger you have to use PowerCLI to for Image Builder and Deploy Rules. Support for new configuration parameters and advanced settings and the UI will include the following sections:
Software Depot
Deploy Rules
Deployed hosts
Discovered hosts
PowerCLI can be used to perform backup of the Auto Deploy environment. You can run scripts copied to the ESXi hosts during the deployment as a post boot option. Now support for UEFI and IPv6 and scalability (concurrent ESXi boots) has been increased 9 times.
Security
I will cover two of the three below mentioned areas since VM Encryption has been covered already.
Secure boot of an ESXi host needs HW that supports UEFI Secure boot firmware. If enabled every VIB can be verified upon boot to make sure the ESXi host in not tempered.  Each VM can also leverage vUEFI (Linux and to verify the that the VM guest OS is not tempered.
Improvements to the audit logging has also bee included in vSphere 6.5. Now there will not only be information about what user did what e.g. User X changed VM A. Now the action will also be included meaning the log will say User X changed num of vCPUs on VM A.
Syslog integration has also been improved and i'm interested to see if you can easily change what will be sent to syslog.
VMware Fault Tolerance (FT) has been around for quite a few years now. In vSphere 6.0 when the underlying FT infrastructure technology changed from vLockstep to fast-checkpointing, which provided higher availability and scalability which is good, a higher latency was introduced.
The latency will be dropped by up to 10 times in vSphere 6.5 so i guess VMs not suitable for FT in vSphere 6.0 might be a good candidate for FT in vSphere 6.5
A single VM will now be able to have 6 TB RAM instead of 4 TB RAM in vSphere 6.0 meaning you can run very large in memory DB VMs.
Some old information as well:
EOL for the vSphere C# client announcement as of vSphere 6.5.
EOS for vSphere 5.0 and 5.1 Aug 24:th 2016.
Neither vSphere DRS or vSphere HA were mentioned during the session so i'll just include a quick summary of the news for these features (will write separate blog posts about these later):
DRS

Advanced features in the UI
Even distribution of VMs
Consumed memory vs Active memory
CPU overcommitment
Network Aware

HA

VM Restart Priorities

5 options – Highest and Lowest are new and the High, Medium and Low are still present.

Proactive HA
Orchestrated Restart
HA Admission Control

new default is called "Cluster Resource Percentage"

Performance degradation Warning message is now included. This is displayed if a VM restart after a HA event means lower performance for the VM.
ESXi host Quarantine mode will make sure no new VMs are placed on the ESXi host. Depending on the ESXi host degradation state VMs will either keep running on the ESXi host or be migrated away to other ESXi hosts.
 Other
If you haven't already i encourage you to claim the free VMware Fusion or VMware Workstation license VMware gives away. Just use your mobile app to claim it and it should be available some time after the event.
That's all for this years VMworld in Barcelona.