Today i again received some were good news from VMTurbo. Now they have decided to also give away 2 free VMworld 2015 full conference passes for the Barcelona, Spain, event. VMworld in Barcelona will be held at Fira Gran Vira 12 – 15 October later this year. As i wrote in this blog post they also gave you a chance to win VMworld San Francisco conference passes.
If you haven't done so already sign up, between 7 August – 4 September, for the chance to win the VMTurbo sponsored VMworld tickets here and tune in for the 3 drawings that will be held:
21 August
28 August
4 Septembe
You can read the VMturbo Sweepstakes term and agreements here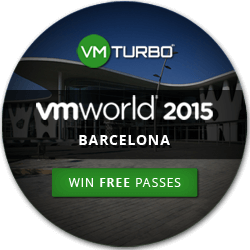 So again, a huge thank you VMturbo for this great way of sponsoring the virtualisation community.
This is not an advertising blog post payed for by my blog sponsor VMTurbo, this is just a way for you as a VDCX56 blog reader to get a chance to take advantage of this great offer from VMTurbo.