A question I have received quite a few times when Nutanix customers wants to add memory to their AHV hosts is  how they can see the following:
DIMM Size in use
DIMM Locator in use
DIMMs Bank Locator in use
You can get some of this information from the out of band management interface (IPMI, iDRAC, IMM) via the physical server you're using. In my case its IPMI since the print screen is from a NX system.

In the above print screen I can see that 16 DIMM slots are in use but not the DIMM size, available DIMM slots. There is an easy way to list this via a CVM or AHV host and the command dmidecode is your friend.
If you just run dmidecode -t memory from an AHV host you'll get the following output for each memory device (can be a rather long list):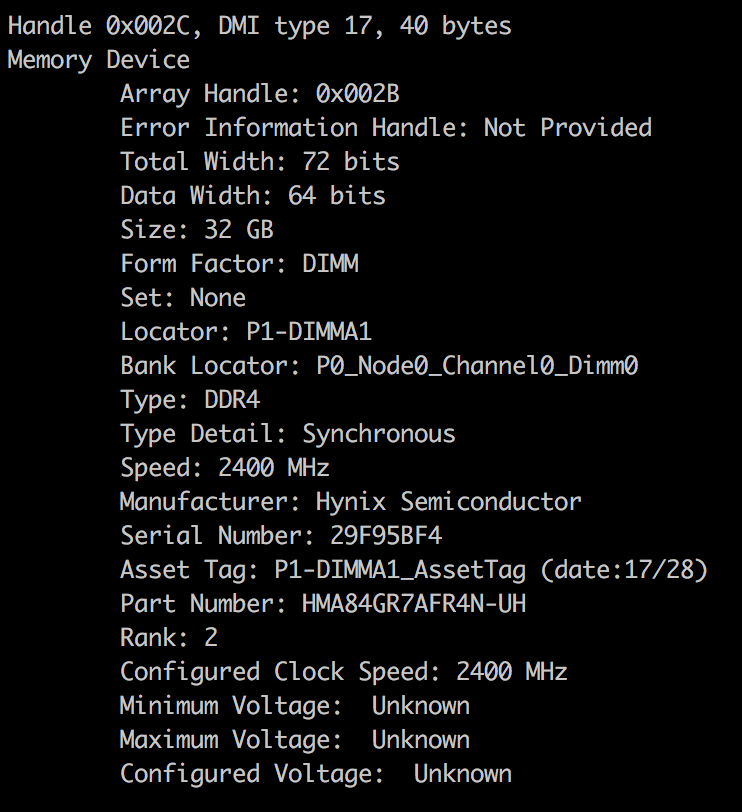 Three examples you can use to get memory information.
List DIMMs installed, DIMM size and available DIMM slots
List DIMM Size, Speed and Configured Speed

CVM

hostssh dmidecode -t memory | grep -E -i 'Size|Speed'

AHV

dmidecode -t memory | grep -E -i 'Size|Speed'

Size: 32 GB

Speed: 2400 MHz

Configured Clock Speed: 2400 MHz

Size: 32 GB

Speed: 2400 MHz

Configured Clock Speed: 2400 MHz

Size: No Module Installed

Speed: Unknown

Configured Clock Speed: Unknown

Size: 32 GB

Speed: 2400 MHz

Configured Clock Speed: 2400 MHz

Size: 32 GB

Speed: 2400 MHz

Configured Clock Speed: 2400 MHz

Size: No Module Installed

Speed: Unknown

Configured Clock Speed: Unknown

Size: 32 GB

Speed: 2400 MHz

Configured Clock Speed: 2400 MHz

Size: 32 GB

Speed: 2400 MHz

Configured Clock Speed: 2400 MHz

Size: No Module Installed

Speed: Unknown

Configured Clock Speed: Unknown

Size: 32 GB

Speed: 2400 MHz

Configured Clock Speed: 2400 MHz

Size: 32 GB

Speed: 2400 MHz

Configured Clock Speed: 2400 MHz

Size: No Module Installed

Speed: Unknown

Configured Clock Speed: Unknown

Size: 32 GB

Speed: 2400 MHz

Configured Clock Speed: 2400 MHz

Size: 32 GB

Speed: 2400 MHz

Configured Clock Speed: 2400 MHz

Size: No Module Installed

Speed: Unknown

Configured Clock Speed: Unknown

Size: 32 GB

Speed: 2400 MHz

Configured Clock Speed: 2400 MHz

Size: 32 GB

Speed: 2400 MHz

Configured Clock Speed: 2400 MHz

Size: No Module Installed

Speed: Unknown

Configured Clock Speed: Unknown

Size: 32 GB

Speed: 2400 MHz

Configured Clock Speed: 2400 MHz

Size: 32 GB

Speed: 2400 MHz

Configured Clock Speed: 2400 MHz

Size: No Module Installed

Speed: Unknown

Configured Clock Speed: Unknown

Size: 32 GB

Speed: 2400 MHz

Configured Clock Speed: 2400 MHz

Size: 32 GB

Speed: 2400 MHz

Configured Clock Speed: 2400 MHz

Size: No Module Installed

Speed: Unknown

Configured Clock Speed: Unknown

List DIMM size, Locator, Bank Locator, Speed and Configured Clock Speed for each DIMM module installed.

CVM

hostssh dmidecode -t memory | grep -E -i 'Size|Locator|Speed'

AHV

dmidecode -t memory | grep -E -i 'Size|Locator|Speed'

Size: 32 GB

Locator: P1-DIMMA1

Bank Locator: P0_Node0_Channel0_Dimm0

Speed: 2400 MHz

Configured Clock Speed: 2400 MHz

Size: 32 GB

Locator: P1-DIMMA2

Bank Locator: P0_Node0_Channel0_Dimm1

Speed: 2400 MHz

Configured Clock Speed: 2400 MHz

Size: No Module Installed

Locator: P1-DIMMA3

Bank Locator: P0_Node0_Channel0_Dimm2

Speed: Unknown

Configured Clock Speed: Unknown

Size: 32 GB

Locator: P1-DIMMB1

Bank Locator: P0_Node0_Channel1_Dimm0

Speed: 2400 MHz

Configured Clock Speed: 2400 MHz

Size: 32 GB

Locator: P1-DIMMB2

Bank Locator: P0_Node0_Channel1_Dimm1

Speed: 2400 MHz

Configured Clock Speed: 2400 MHz

Size: No Module Installed

Locator: P1-DIMMB3

Bank Locator: P0_Node0_Channel1_Dimm2

Speed: Unknown

Configured Clock Speed: Unknown

Size: 32 GB

Locator: P1-DIMMC1

Bank Locator: P0_Node0_Channel2_Dimm0

Speed: 2400 MHz

Configured Clock Speed: 2400 MHz

Size: 32 GB

Locator: P1-DIMMC2

Bank Locator: P0_Node0_Channel2_Dimm1

Speed: 2400 MHz

Configured Clock Speed: 2400 MHz

Size: No Module Installed

Locator: P1-DIMMC3

Bank Locator: P0_Node0_Channel2_Dimm2

Speed: Unknown

Configured Clock Speed: Unknown

Size: 32 GB

Locator: P1-DIMMD1

Bank Locator: P0_Node0_Channel3_Dimm0

Speed: 2400 MHz

Configured Clock Speed: 2400 MHz

Size: 32 GB

Locator: P1-DIMMD2

Bank Locator: P0_Node0_Channel3_Dimm1

Speed: 2400 MHz

Configured Clock Speed: 2400 MHz

Size: No Module Installed

Locator: P1-DIMMD3

Bank Locator: P0_Node0_Channel3_Dimm2

Speed: Unknown

Configured Clock Speed: Unknown

Size: 32 GB

Locator: P2-DIMME1

Bank Locator: P1_Node1_Channel0_Dimm0

Speed: 2400 MHz

Configured Clock Speed: 2400 MHz

Size: 32 GB

Locator: P2-DIMME2

Bank Locator: P1_Node1_Channel0_Dimm1

Speed: 2400 MHz

Configured Clock Speed: 2400 MHz

Size: No Module Installed

Locator: P2-DIMME3

Bank Locator: P1_Node1_Channel0_Dimm2

Speed: Unknown

Configured Clock Speed: Unknown

Size: 32 GB

Locator: P2-DIMMF1

Bank Locator: P1_Node1_Channel1_Dimm0

Speed: 2400 MHz

Configured Clock Speed: 2400 MHz

Size: 32 GB

Locator: P2-DIMMF2

Bank Locator: P1_Node1_Channel1_Dimm1

Speed: 2400 MHz

Configured Clock Speed: 2400 MHz

Size: No Module Installed

Locator: P2-DIMMF3

Bank Locator: P1_Node1_Channel1_Dimm2

Speed: Unknown

Configured Clock Speed: Unknown

Size: 32 GB

Locator: P2-DIMMG1

Bank Locator: P1_Node1_Channel2_Dimm0

Speed: 2400 MHz

Configured Clock Speed: 2400 MHz

Size: 32 GB

Locator: P2-DIMMG2

Bank Locator: P1_Node1_Channel2_Dimm1

Speed: 2400 MHz

Configured Clock Speed: 2400 MHz

Size: No Module Installed

Locator: P2-DIMMG3

Bank Locator: P1_Node1_Channel2_Dimm2

Speed: Unknown

Configured Clock Speed: Unknown

Size: 32 GB

Locator: P2-DIMMH1

Bank Locator: P1_Node1_Channel3_Dimm0

Speed: 2400 MHz

Configured Clock Speed: 2400 MHz

Size: 32 GB

Locator: P2-DIMMH2

Bank Locator: P1_Node1_Channel3_Dimm1

Speed: 2400 MHz

Configured Clock Speed: 2400 MHz

Size: No Module Installed

Locator: P2-DIMMH3

Bank Locator: P1_Node1_Channel3_Dimm2

Speed: Unknown

Configured Clock Speed: Unknown

Another option which lists a lot of HW related information is the Nutanix Cluster Check (ncc) tool. Run the below command and look for the section " Memory Module" and you'll see memory information as well.

ncc hardware_info show_hardware_info
Commands tested and verified on Nutanix AOS 5.5.0.5 and AHV 20170830.94