A new version of Nutanix Files (Files), formerly knowns and Nutanix Acropolis File Services (AFS), was released yesterday 2021-01-25 which means the latest version available is 3.8 and requires minimum AOS versions 5.15.3 or 5.19. Files is Nutanix scale out file server which let's you share files within in a controlled and secured manner.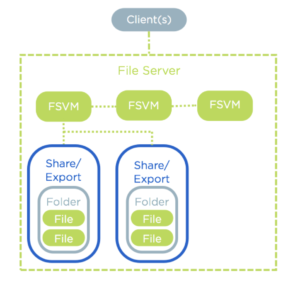 Nutanix File Architecture – Figure Borrowed From Nutanix Official Documentation
The following new features or enhancements to existing features are included in the 3.8 release:
NFS v4.1 & NFS v4.2 are now supported
SMB3 Directory Leasing
Smart Disaster Recovery (DR).
File Name Pattern Blocking
Connected Shares Under Distributed, data across the FSVMs, and Nested Shares.
As mentioned in previous blog posts Nutanix Files is the Nutanix file server and it currently supports the following protocols:
SMB 2.0
SMB 2.1
SMB 3.0
NFS v3
NFS v4
NFS v4.1
NFS v4.2
Useful Links
———————————————————————————