A new version of Nutanix Move has been released. This is the first dot release in 2021 and the latest version available is now 3.7. As you might know Move is a VM migration tool which makes it possible to migrate VMs between the following environments with minimal downtime:
VMware ESXi to Nutanix clusters on AWS and AHV
VMware ESXi on legacy infrastructure to VMware ESXi on Nutanix
Microsoft Hyper-V to Nutanix clusters on AWS and AHV
AWS EC2 to Nutanix clusters on AWS and AHV
AWS EC2 to VMware ESXi on Nutanix
Nutanix AHV to AWS EC2
The below picture explains the architecture of Move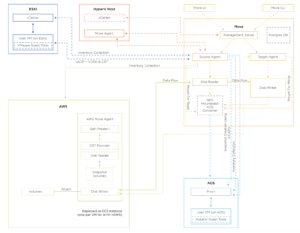 Picture borrowed from Nutanix official web site – The Move User Guide.
The major enhancement in version 3.7 is the change to AWS Native APIs for snapshots and change tracking. This change brings some really good enhancements e.g.:
No need to install Move agents on AWS
Support to migrate any Guest OS supported in AWS – Just make sure the target supports the same guest OS:)
Faster migrations
In addition Move 3.7 comes with the following enhancements:
AOS 5.18 & 5.19 support
pc.2020.11 support
Support or VMware vSphere, both vCenter Server snd ESXi,  7.0 Update 1
Support for Ubuntu Server 20.04
As you can see, great migration capabilities with Nutanix Move.
Useful Links
———————————————————————————