A few days ago, 2017-05-16, VMware released a new version of vRealize Automation (vRA) formerly known as vCloud Automation Center (vCAC) meaning the most recent version is now 7.3. There are enhancements in quite a few areas and some new pretty good feature I know people are looking for e.g.:
Integration with Puppet
High availability:

Automated PostgreSQL database failover
Automated IaaS Manager Service failover

Multiple NSX enhancements:

Load Balancers
NAT and Port Forward
Security Groups

Event Log functionality and logging
ServiceNow integration improvements e.g. to the governance engine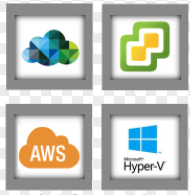 In addition to vRA 7.3 VMware also released vRealize Orchestrator (vRO) formerly known as vCenter Orchestrator (vCO) version 7.3 which includes e.g.:
Integration with Single Sign-On (SSO) through vRealize Automation or vSphere authentication.
Improved configuration of Control Center, including an initial configuration wizard.
Role-based access to Control Center as opposed to the unrestricted root access in earlier versions.
Added support for custom DynamicType properties that are persistent in the configuration. Really good:)
Check out the support matrix which you can find here before you upgrade.
Download vRA 7.3 here and view the release notes here.