A blog post dedicated to my blog readers.
THANK YOU FOR YOUR VOTES – MUCH APPRECIATED
15:th of December last year the annual top vBlog voting hosted by Eric Siebert at vSphere-land and sponsored by Turbonimic, for the third year in a row, ended and yesterday 21 March the results were announced.
The live session can be viewed here was hosted by Eric Siebert, Eric Wright from Turbonimic,, John Troyer & my colleague Angelo Luciani. As usual the top 25 spots were announced during the live session and I'm happy to announce that I made it into that list for 2018 as well, my blog was voted #24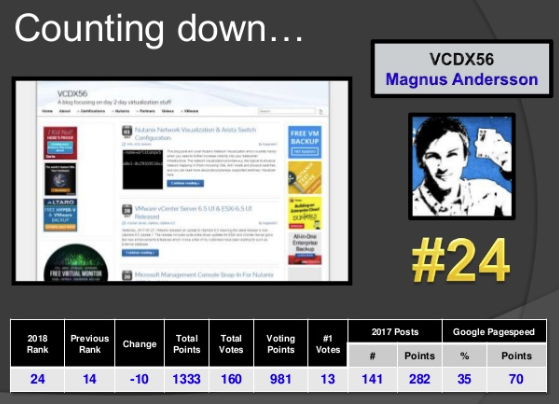 Picture borrowed from the top vBlog presentation at vSphere-land
This means my blog has been voted according to the below since I started the blog:
2018 – #24
2017 – #14
2016 – #15
2015 – #17
2014 – #18
It's a real honor that so many people find my blog valuable and includes it in their voting.
For additional information see, Top 25 plus Category winners