Keynote
Today's keynote started with a short reminder of the end user demands in terms of availability from any device any time + choice and the IT organizations focus on e.g. Service Level Agreements (SLA), stability and security. After a few minutes VMware announced an acquisition of Boxer, read more about it here,  that will be added to the VMware End User computing section and more specifically the AirWatch team. Boxer has developed a container like Personal Information Management (PIM) solution for mobile application and security. Quite a few really powerful demos including security, application availability across devices via single sign on and network security.
Tech Preview of Airwatch and App Volumes called Project A2 was announced as well.
I guess you all remember the "Network is the computer" quote many years ago and today we heard a new one "The App is the network"

Next section of the keynote focused on NSX including the concept, improved features in version 6.2 and customer adoption over the past 2 years. One cool demo included spanning the local data center network to AWS provisioned VMs.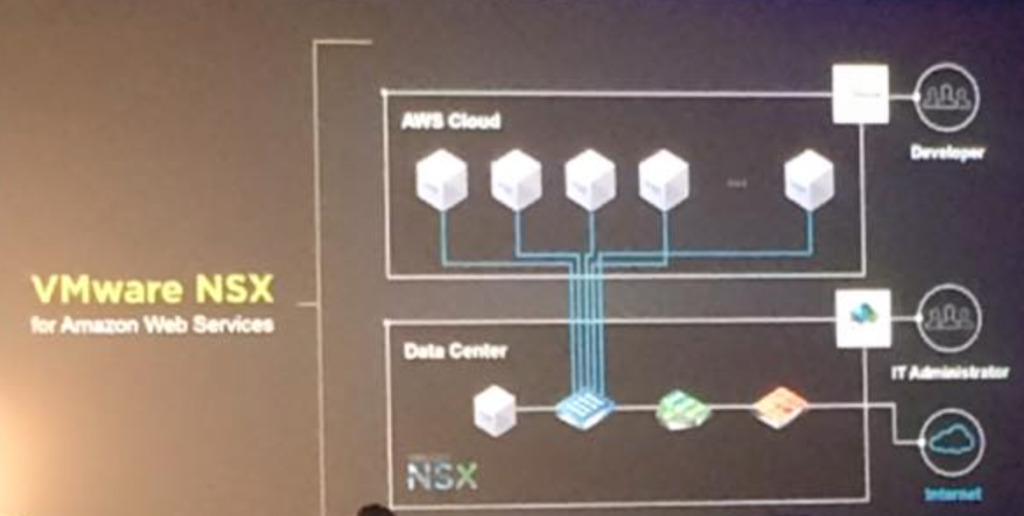 Yeah, i know the quality of the pictures taken with my phone during the keynote are quite poor so sorry about that. However, i guess you will get the message.
Unfortunately i could not attend the entire keynote session, left about 15-20 before it finished. Had to get going to the vRealize deep-dive workshop.
vRA Deep Dive workshop
Next up was a vRealize Automation 7.0 Deep-Dive workshop which was held by the vRA gurus Jad El-Zein, Kimberly Delgado, Grant Orchard and Jon Schulman. I mentioned some of the new stuff included in vRA 7.0 in yesterdays VMworld daily summary which you can find here.
Sessions
Architecting High Availability and Resilience for Tier 1 Apps (Oracle, SAP, Microsoft) – Heading says it all. Was all about making Tier 1 apps available and and included everything from vSphere HA, VMware Fault Tolerance and Third party clustering solutions. As usual, make sure you select the appropriate protection to deliver the SLA availability requirements. Was informed that a few customers have disabled vMotion Stun During Page Send (SDPS) since the application performance was degraded during the vMotion operation. I have never turned it off but in some corner cases it could be useful. Here is how you disable SDPS.
Solutions exchange
I spend a lot of time in the solutions exchange today listening to a lot of software vendors and i had quite a few discussions. Spend some time at the Nutanix booth and talked to existing and potentially new customers. A lot of good discussions and questions….
Blogger Area
Just watched the keynote from the blogger area so not much time spent there unfortunately. However, i picked up this cool t-shirt so thanks again Corey Romero and David Hill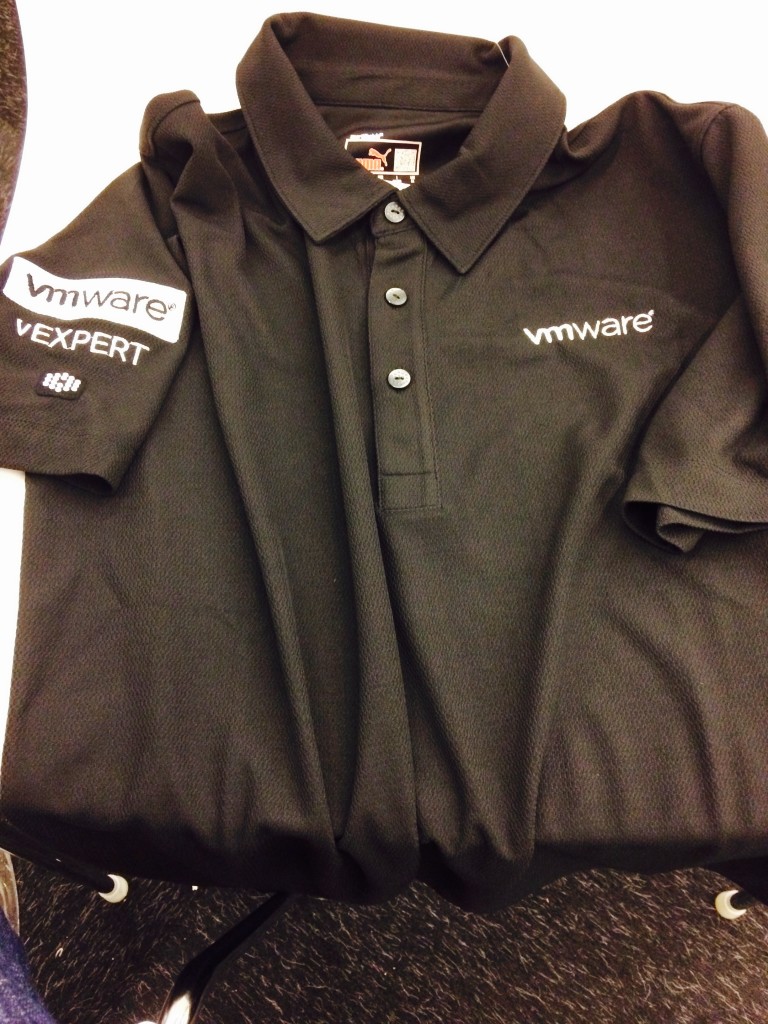 VMware Party
Wednesday and as usual the last stop was the VMware Party held at the conference center. A lot of game stations including some really cool games and the highlight was of course the performance by Faithless. Felt like being back at high school:)
I also had kind of a preparation talk with one VCDX candidate and discussed his presentation for this weeks VCDX. Good luck and i'm sure you will nail it.
Main take away form today was the direction where vRA is going in terms of making the solution easier to implement, reducing number of components required, unified blueprints and that Application Director is now included in vRA meaning no separate product.
That's all for today, C U tomorrow